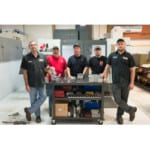 Triple C Machine Expands into 3D Machining with the help of Mastercam CAD/CAM Software and QTE Manufacturing Solutions
After nine years as a plant manager for a tool and die maker, Jason Cantrell decided to launch his own tool and die business. In 2011, he established Triple C Machine & Fab (Livingston, TN). Cantrell's vision for business ownership has since paid off. What started as a small job shop has expanded into a thriving company."I decided to go out on my own so I bought a building and got started," said Cantrell, Triple C President and owner. "Then it just grew from there — a lot more than I intended. And we'll be growing even more."
Steady growth led to Cantrell's 2015 purchase of an additional building across town. The 30,000-square-foot facility houses a metal stamping plant and will soon include additional CNC machine tools. Specializing in tool and die design, building and repair, as well as production machining, metal stamping, and fabrication, Triple C has 22 employees, including four programmers and 10 shop-floor workers. CNC milling machines, lathes, and wire EDMs are used to machine A2, D2, DC53, and 4140 steel to serve the automotive, appliance, environmental, and special machine industries. Once Triple C delved into 3D work, Cantrell knew it was time to investigate CAD/CAM software options.
"When you get into 3D machining, you find out quickly that software is a really important part of equipment," he said. "We had to go with Mastercam® (CNC Software, Inc., Tolland, CT). We do a lot of 3D machining, a lot of hard milling. It has really worked well for us. We hardly had any issues; it's been very smooth, but the few times we did their Certified Reseller in our area, QTE Manufacturing Solutions, was readily available and helpful."
Triple C designs and manufactures a little bit of everything, according to Cantrell –  in addition to production machine work. It relies on CAD/CAM software to program its milling machines and lathes.
"Most of our parts are for die/stamping," said Josh Key, Triple C CNC programmer. "We make details and sections for these dies for local facilities. That's where we use Mastercam the most."
With short lead times and a constant full workload, Triple C pushes its CNC machines to optimum speeds by programming toolpaths with the software's Dynamic Motion technology for high speed milling. Dynamic Motion technology relies on proprietary algorithms programmed into the software that detect changes in the material as the tool moves through. By utilizing the entire flute length of cutting tools, air cutting is minimized or eliminated entirely, saving wear and tear on the tools as well as ensuring constant chip loading.
"When we began using the high speed toolpaths, it really changed a lot for me," said Key. "We could then use the full length of our flutes on solid carbide and get so much less air cut. Everybody back then seemed to be using contoured toolpaths for depth cuts. The high speed toolpaths changed everything."
The folks at Triple C repeatedly rely on some of their favorite features in the software to produce more complex parts, but with ever-shortening lead times.
OptiRough Toolpaths:  According to Key, the OptiRough toolpath is one of the most beneficial features of Mastercam, especially in the machining of complex die parts. Operators can rough out parts efficiently because OptiRough removes large amounts of material, resulting in a fully roughed part made in less time than if made using traditional roughing methods. The toolpath supports using high feed cutters. A single Dynamic OptiRough toolpath can cut material in two directions: on stepdowns (-Z) and stepups (+Z). The bi-directional technology uses the minimum amount of stepdowns, for reduced cycle times.
"We use a lot of high feed cutters and the OptiRough toolpath to get our parts roughed out," said Key. "And we like using the 3D Hybrid and Scallop high speed toolpaths. The toolpaths keep our tools in constant motion with chips flying. There's not a lot of air cutting, no wasted time. They really keep our cutting tools engaged."
Triple C does not regularly machine large part runs; in one day, one operator may produce five parts, all completely different. Though quantifying time and dollar savings is difficult, recognizing overall improvements like tool performance and increased cutting speed is not.
"We're a job shop and everything we do is different," said Key. "With the software, I know that I can get more out of my tools—longer tool life and faster cycle times."   I have less chatter and better finishes. Those are the kind of results I see."
Solids:  For Triple C customers who do not submit solid models of their parts, designers use the Solids feature to design and turn customer CAD drawings into solid model Mastercam files. Designers and programmers can mix and match several modeling techniques, adding surface or wireframe elements to the model, cutting down on programming time.
"I really enjoy drawing and designing in
," said Key. "I like how I can design and do my drawing right there, and then do the work for the part all in the same place."
"Sometimes stamping customers will provide 3D models of what they need," said Cantrell. "We take their models and make our machining programs from them. The software has helped us with this because before, we could never get the surface finish tolerances close enough. We had to spend a lot of time polishing. Now we can finish the part on the mill."
Simulation:  Triple C runs Mastercam Machine Simulation on 3D parts to check for gouges and ensure proper tool engagement. Once the simulation is complete and the process is verified, operators load the part and program and start the cutting process. While the machine tool is running, the operator is free to move on to another project, saving valuable time.
"The simulation program has really helped us," said Key. "If the machine is going to run for three or four hours by itself, we can verify the process on the computer. The operator does not have to watch over it.
Triple C started with one seat of CAD/CAM software has and now has five, which proves especially helpful when a customer breaks a die or a part. Employees are able to replace or repair multiple pieces at the same time. For a company that must complete each incoming job within a week or two, timing is critical.
"We've got the capacity for each of us to be working on a different piece of the puzzle, or for a different customer," said Key. "We don't have a lot of lead time here. Everything has to be flipped quickly, so having multiple guys programming lets us take on more work."
With the continued help of Mastercam's high-speed toolpaths, simulation, and process control capabilities – along with the support of QTE Manufacturing Solutions – Triple C will be able to take on those jobs and then some. "Our line of work is so competitive," said Cantrell. "We have new machines, new software, and great people. As long as we maintain that, I think we'll stay busy."